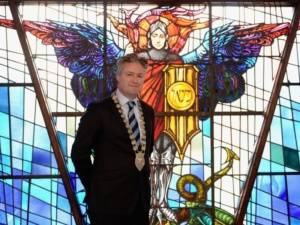 Fellow Past Pupils, I am delighted and honoured to take up the role as Union President for 2019/20 and would especially like to thank members for placing their trust in me.
I would like to thank all my predecessors for their excellent stewardship of the Union since its incorporation in 1984, particularly those I have worked with – Rob Brennan, Sean O'Farrell, Keith Hughes and especially our outgoing president, Alan Gough who has had a very successful year.
The Union is not in need of any radical overhaul, however there are always areas that can be improved upon such as the perennial challenge of communications to past pupils and the related matter of maintenance of the Union's website. To this end, committee member Brian Brereton continues to provide valuable assistance.
Furthermore, I would like to thank my fellow committee members in advance, with a special welcome our newest member on the committee, Eamon Lyons. I'd also like to recognise the efforts of current committee members and in particular Irene Scott who provides invaluable support.
My modest aims for 2019/2020 are to continue to grow the Union and to make it as relevant as possible.
Connectivity with the teachers, staff and pupils of the school is critical to the success of the Union and I am looking to continue the recent initiative taken to invite current teacher David Wilson to the monthly committee meetings to provide an update on all relevant matters taking place in the school.
We will continue to broaden the appeal of the Union to as many as possible by being relevant and attractive to members and I will listen to all ideas.
Finally, I am pleased that Stephen Taylor has agreed to accept the position of Vice President of the Union. It was an easy decision to recommend Stephen for this role and to obtain the agreement of fellow committee members. I very much look forward to Stephen's good humour and support and indeed the support of the committee and the wider past pupil community for the exciting year ahead.
Yours sincerely,
Maurice Murphy
Save