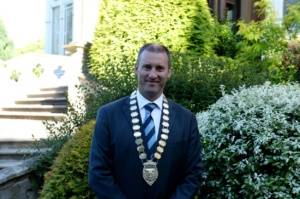 Fellow Past Pupils, I am deeply honoured to take up the role as your Union President for 2017/18 and would especially like to thank members who have offered their advice and support in recent months. Thank you for placing your confidence in me.
I would like to thank Sean O' Farrell for his excellent stewardship of the Union in the last year.
Further, I would like to thank my fellow committee members in advance, with a special welcome to the new members on the committee. I'm sure they will play an important role in the Union this year and in future years. In particular, I'd like to recognise the efforts of Steve Diskin, Alan Gough and Duncan Broderick who have been working on Union communications. It's great that we now have Stephen Taylor on the committee who will greatly help with our communication efforts.
I'd like to formally recognise the work that Alan Doran has done over the years in identifying and contacting many past pupils and getting them involved in the Union. I am one such past pupil. I'd also like to thank in advance Irene Scott, without whom we would find it very difficult to operate.
I first came to St Michaels as a 6 year old in 1977. It's not lost on me that, 40 years later, I now take up the role as Union president. We have all benefitted from our time in the school; the quality of the education; the Spiritian ethos engrained in us; friendships fostered in class and on the sports field. It is this common fellowship that is a unique feature of this institution. It is what unites us, brings us together time and time again informally or at Union events, gives us the confidence to achieve individual life and professional goals, while always mindful of others not as fortunate as us. This to me is the essence of St Michael's and is a reason why many of us choose to educate our sons here.
My aim this year is to builds on the work done in previous years, to broaden the appeal of the Union to as many as possible by being relevant and attractive to members. However, we need to be better at communicating the benefits of the Union to the St Michael's network.
There are several landmark events in the year, each of which appeals to different segments of the St Michael's past pupil population.
The annual dinner is a great way for feature years to meet up, noting that we had our first 40 year out cohort last year and they certainly made themselves heard at the dinner last November. The business lunch showcases the school and its past pupils to third parties, while also being topical and relevant to those of us in the business community. The annual golf outing is growing from strength to strength and it is especially pleasing to see so many more recent graduates enthusiastically supporting this event (while showing many of us which can actually be achieved on the course). The London lunch and dinner are also important avenues to reach out to past pupils based in the UK.
Our work with school is also greatly appreciated whether in the 6th year careers night or in mock interviews with the transition year students. While speaking of 6th years, it would be remiss of me not to mention the outstanding contribution of one fellow past pupil in the school. As you are all aware, Gary Coakley has just completed his last year teaching in the school. He is a shining example of a St Michael's Man. Many of us have benefitted from his friendship, his teaching, his coaching and his mentoring. He will be sorely missed in the school.
Finally, I'd like to thank Alan Gough for agreeing to become Vice President. As one of my oldest and closest friends, it was great to recommend him for the position and easy decision for fellow committee members to make to put him forward for your approval. I look forward to his support, the support of the committee and the wider past pupil community for this year.
Save