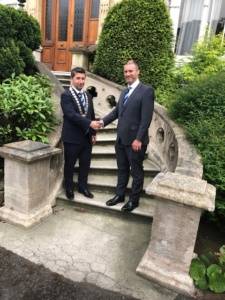 Fellow Past Pupils, I am delighted and honoured to take up the role as Union President for 2018/19 and would especially like to thank members for placing their confidence in me.
I would like to thank all my predecessors for their excellent stewardship of the Union since its incorporation in 1984. Particularly those I have worked with – Gav Lee, Rob Brennan, Sean O'Farrell and especially our outgoing president, my great friend Keith Hughes who has had a very successful year.
Further, I would like to thank my fellow committee members in advance, with a special welcome to the new members on the committee, Harry Wood and Michael O'Malley. I'd also like to recognise the efforts of current committee members and in particular Irene Scott who is a tremendous help.
My modest aims for 2018/2019 are to continue to grow the Union and to make it as relevant as possible.
I have observed over the years of my involvement that the Union is maturing. For the last two years the annual dinner has had tables from 40 years out and we are expecting another strong representation of this cohort at the 2018 dinner along with a big crowd from the 30 year out class.
There is an increasing number of fathers and sons now in the Union. At the recent business lunch there was an impressive gathering of senior people from across the Irish economic and political landscape. In addition there are a number of Michaels past pupils teaching in the school and having a very positive influence on the current generation of students.
It is important that we as a Union continue to foster relationships and recognise past pupils across all disciplines. Although it is proving difficult to get the balance right with the simply outstanding achievements of some of the rugby players.
We will continue to broaden the appeal of the Union to as many as possible by being relevant and attractive to members and I will listen to all ideas.
Finally, I am pleased that Stephen Taylor has agreed to accept the position of honorary secretary of the Union. This vacancy arose because I am delighted to say the current honorary secretary, Maurice Murphy, has agreed to become Vice President. It was great to recommend Maurice for the position and an easy decision for fellow committee members to make to put him forward for your approval. I look forward to his support, the support of the committee and the wider past pupil community for this year.
Save