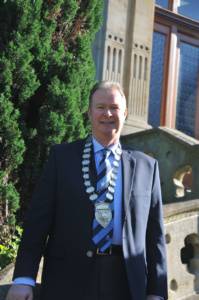 Fellow past pupils it is with great pleasure that I accept the role of President of the St. Michael's College Union for the forthcoming term.
I would firstly like to congratulate Rob Brennan on what everyone can agree was a fantastic term in office. Rob has been a huge success as PPU President and must be congratulated on his determined effort to make sure each event this year went off without a hitch and also turned a profit, the feedback so far from the school and all other stakeholders is excellent.
Rob brought tremendous energy and honour to the role and I hope I can come somewhere close to achieving the same high standards that he has set.
Alan Doran is the man to blame for encouraging me to get involved in the committee, as he would often appear in a certain late night establisment after attending various events and regale me with tales of daring do. I would really like to take this opportunity to thank Alan for all his tireless work over the years and wish him every success in London.
I would also like to thank Gavin Lee and Johnny Mockler who are great exponents of collaring you after a match or event, then over a few jars getting you on side, this has been a great tactic of which both Rob and I have learnt to use over the years as an effective way to get people on board for various events.
I can definitely say it has been hugely enjoyable and fulfilling to be involved in what has been a great committee. I look forward to working with you all again this year and extend a very special welcome to our new committee members.
My thanks also to all the past presidents for the words of advice and encouragement over the past few weeks and hope I can rely on their support over the coming year.
I joined St. Michaels in 1972, Fr Galvin interviewed me and I can remember feeling his warmth and kindness, which put a nervous 5 year old at ease a condition I must say stayed with me during my time in St Michaels. I finished in 1984 so this year I will be celebrating my 32nd year out of school as President, which is something I certainly didn't think would happen when I left.
The union has made great strides over the last couple of years with numbers at events increasing every year along with Union Memberships. It is the memberships that are the lifeblood of the union and ensures the connection is kept between the school past and present. The more memberships there are the more there will be at events and subsequently the more will join.
A special mention must go to Stephen Diskin who was instrumental in setting up the new payments system and with the help of the Website sub committee and past pupil Leigh Maher helped to update our new interactive website which provides us with a better platform to run more events and raise additional funds not only for the school but also other charitable needs as is the Spiritan way.
The goal for my term in office is to continue to increase the memberships of the union and build on the numbers at the existing events. I also want to build on the relationships that the union has copperfastened with the staff of the Senior and Junior School and not forgetting the contacts that have been made with Duquesne. I think everyone will agree that it is important that we are able to continue to use the old house for committee meetings.
I would like to say thanks to Keith Hughes for accepting the role of VP for the forthcoming year. It was an easy decision to nominate Keith on my part and one which was backed up by everyone I spoke to.
I also want to thank Father McGlynn. I don't think any of us fully realise how much work Fr McGlynn took on over the years and on behalf of myself, the Committee, Past Presidents and all the Union members a sincere thanks.
Thanks also to Irene for agreeing to help us we all look forward to working with her in the coming year.
I look forward to the year ahead and your support.
With thanks.
Sean O'Farrell
Union President 2016/17
Save